DC Engage Harm Reduction Conference 2022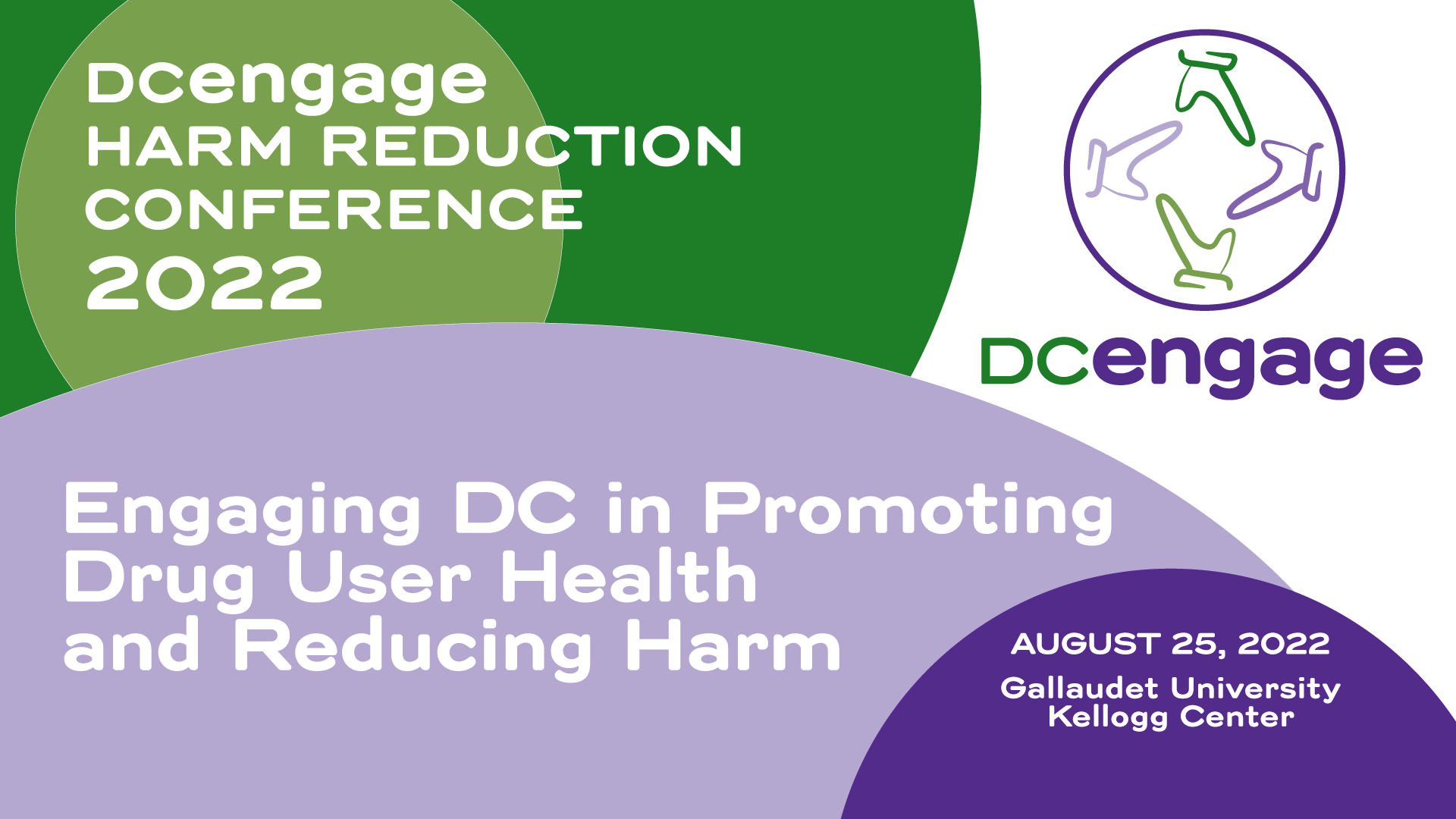 Engaging DC in Promoting Drug User Health and Reducing Harm:
A Person First Approach
August 25
|
9:00 am
–
4:45 pm
EDT
Free and open to all,
however space is limited!
---
Agenda At-A-Glance
9:00–9:45am
Registration
10:00–11:00am
Welcome Remarks and Opening Plenary
11:15am–12:00pm
Morning Concurrent Sessions
Session 1: Intersectionality Between Infectious Disease and Drug Use (will be repeated in the afternoon)
Session 2: Education During an Outbreak
Session 3: Syringe Services Programs in a COVID Environment
12:00–1:15pm
Lunch Plenary
A Community Engagement: Taking It To The Streets!
1:30–2:15pm
Afternoon Concurrent Sessions
Session 1: Current and New Treatment Approaches
Session 2: Behavioral Health Models for Integrated Care
Session 3: Reducing Stigma and Affirming Care with Persons who Use Drugs
2:30–3:15pm
Afternoon Sessions II
Session 1: Drug User Health and Workplace Policies
Session 2: MAT Survey: Where Are We Headed?
Session 3: Intersectionality Between Infection Disease and Drug Use (repeated)
3:30–4:15pm
Closing Plenary
Now What?
4:15–5:00pm
Networking Reception
Making the Connection, Personal and Professional Self Care
Conference Safety
The health and safety of participants is our highest priority.
Conference safety protocols are developed for the health and wellbeing of all participants, based on prevailing public health practices and group convening standards. Below are the safety requirements for attending the Engaging DC in Promoting Drug User Health and Reducing Harm Conference.
1. Participants are strongly encouraged to have received at least two doses of an approved COVID-19 vaccine.
2. Face masks will be required when indoors for this event. (The only exception to this will be when participants are eating/drinking and speakers can remove their mask when presenting.)
3. If you are feeling ill prior to arriving at the conference, please stay home and get tested for COVID-19.
This requirement applies to all participants, including speakers and staff. Note that completion of the registration for this event means you agree to abide by these safety measures.
If you are registered to attend the Engaging DC in Promoting Drug User Health and Reducing Harm Conference, but are unable to meet the minimum safety requirement of wearing a mask, please contact Henry Butenschoen ([email protected]) immediately.
Transportation Options
1. Free Parking at the Kellogg Conference Hotel
2. Metro – Red Line – NoMa Gallaudet/New York Ave (Walking Directions)
3. Uber / Lyft / Taxi, etc
---